THE BEST PLACES FOR FAMILIES TO STAY IN THAILAND
From jungle treehouses to floating bungalows, there's a fantastic variety of places for families to stay in THAILAND. You might not see too many of our favourite places on conventional lists of kid-friendly hotels in Thailand, which tend to pigeonhole parents as being interested only in identikit mega resorts. On our travels, we usually eschew the larger kid-club hotels in favour of smaller, more idiosyncratic places. And other than the Anantara Riverside Bangkok, which gets our nod for its fabulous setting and range of children's activities and room options for families, this mix of unique places to stay across the country – reviewed in the order you'd encounter them on our Big Trip Thailand itinerary – is exactly that. Traditional Thai homes tucked down hidden alleyways; quirky guesthouses and secluded island villas; safari-style tents on the edge of a national park that's teaming with wildlife – staying at any, or all, of these will help your kids remember their visit to Thailand long after your trip has ended.
With the exception of Elephant Hills, you can reserve all of our recommended places to stay in Thailand through Booking.com; clicking on the hotels' name below will take you directly to their booking page, where you can fill in your dates and secure your stay. To find out more about why we've partnered with Booking.com, see here.
PHRANAKORN-NORNLEN, BANGKOK
PHRANAKORN-NORNLEN is the best of both worlds. This super little Bangkok guesthouse combines the creature comforts and thoughtful touches of a well-run hotel with a retro decor and chilled-out atmosphere that for many parents will conjure up the backpacker vibe of travelling pre-kids. The owners must have had great fun decorating the place, judging by the attention to detail they clearly put into the quirky café – surrounded by vintage sweet stalls, a traditional barbershop, an old bakery and the like – the colourful corridor walls, and the bedrooms themselves, which are almost too cute to be true. Each of the family rooms (sleeping up to 5) is designed with real charm, with wall-to-wall paintings (of the river alight with lanterns during Loy Krathong, for example) and floor-to-ceiling windows opening onto a little balcony; there's a double bed in one room and three mattresses on a raised platform in the other. A breakfast of fruits, pancakes, freshly baked bread and a daily-changing Thai dish is served from funky street-food carts. There's no pool, but there's plenty of shady respite from the Bangkok heat – and kids will probably be too preoccupied with the daily workshops that cover things like fruit-carving, tie-dye making and Thai cooking (all at extra cost) anyway. Phranakorn-Nornlen is hidden down an alleyway in a slightly off-the-beaten-track part of Bangkok, so it feels like you're living with the locals a bit more here (you're close to a very authentic street market), yet you're only a 10-minute walk from Tha Thewet pier, where Chao Praya Express Boats run down the river to the Grand Palace and beyond.
To reserve your stay at Phranakorn-Nornlen, click here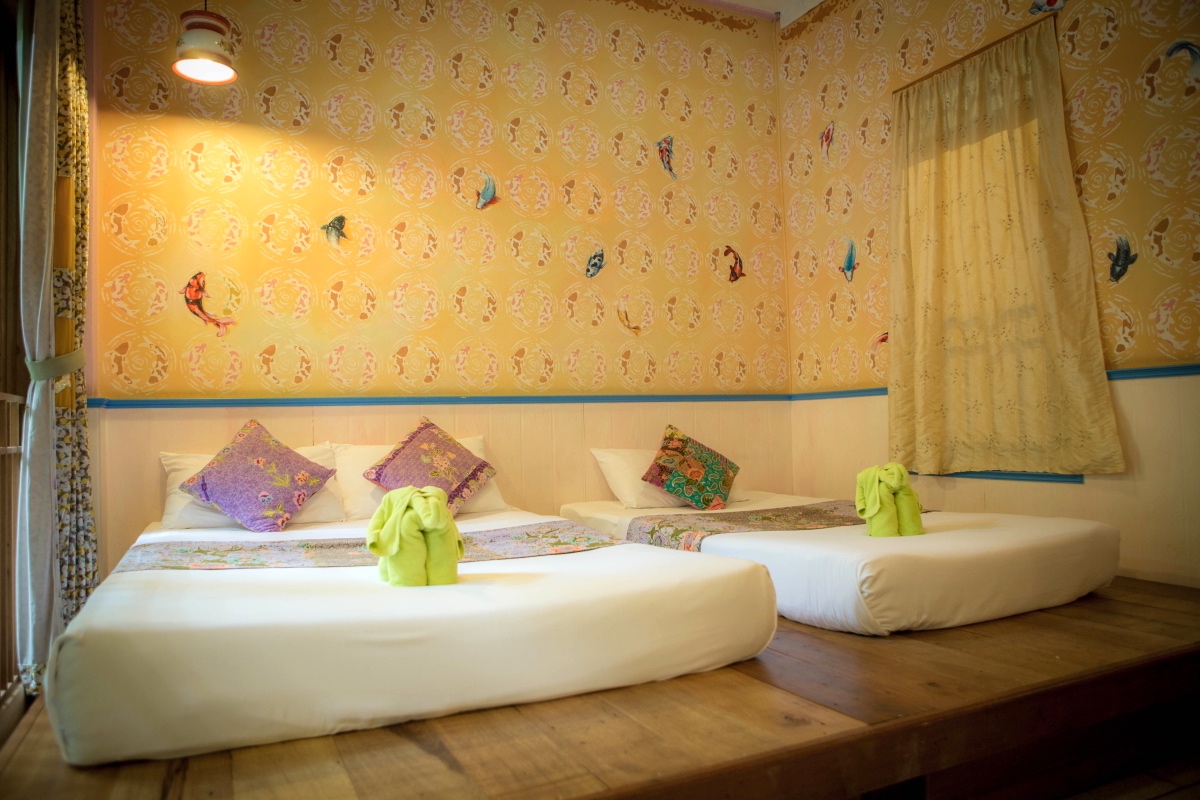 ANANTARA RIVERSIDE, BANGKOK
Making the most of its lovely setting in expansive tropical grounds near the Rama III Bridge, ANANTARA RIVERSIDE BANGKOK is all about convenience. Were Bangkok not such an exciting city to explore, you could quite easily spend all your time here without ever leaving the hotel. The huge central swimming pool, one of the largest in the capital, has an adjoining children's pool, and there are tennis courts, a gym, a renowned spa, a playground, soap-making and cooking classes, Muay Thai training and a (free) kids' club whose activities range from fish feeding and Thai dancing to arts and crafts. You can choose from nearly a dozen restaurants and bars, including a steakhouse and a pizzeria (which also hosts pizza-making classes for children), whilst families with older children might enjoy the scenic two-hour dinner cruise along the Chao Phraya River on board Anantara's antique rice barge (kids' menu available). The range of smart, tastefully furnished rooms – all dark wood floors and soft Thai silk, and each with its own complimentary smartphone – overlook the gardens or river. Deluxe rooms (the entry-level accommodation) are big enough to sleep two adults plus one child in a rollaway. With more kids, you'll need to book either a Family Suite (with king and queen bed – and a Wii) or a luxurious Two-Bedroom River View Suite, which has a king and two supersized twins, plus a separate living area and well-equipped kitchen. Both can also take an additional rollaway, and the sizeable kings are large enough to accommodate a younger child alongside their parents (free if under 5). The resort is removed from the hurley-burley of Bangkok but still within easy reach of everything, their free shuttle boat regularly running up to Central Pier for the BTS Skytrain and Chao Phraya Express Boats. Breakfast costs extra.
To reserve your stay at Anantara Riverside, click here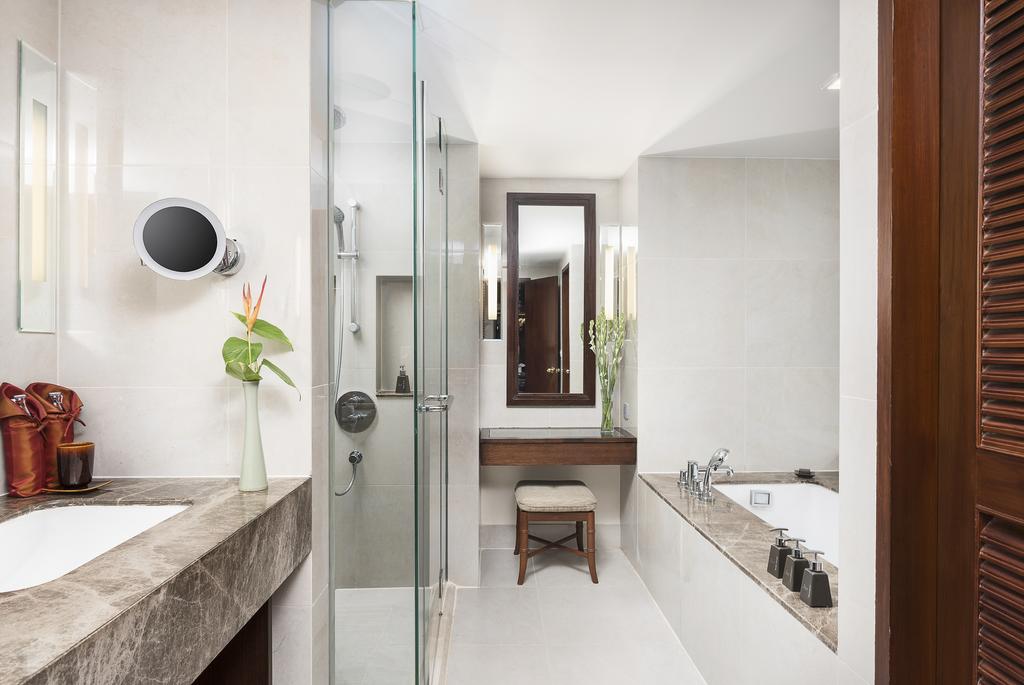 LALA MUKHA, KHAO YAI NATIONAL PARK
This unique tented resort enjoys a beautiful location, surrounded by forest-clad mountains just a kilometre from Khao Yai National Park. Its range of safari-style tents are all very elegant – sturdy but stylish canvas constructions that wouldn't look out of place on the Masai Mara. The simplest ones, the Eco Tents, are actually quite spacious and can sleep 3 on a double or 2 singles in a zipped-off separate section and a single leather sofa bed in the living area. Set in clusters of four or six tents grouped closely together, they are great for larger families who need to split themselves; all Eco tents share swanky bathrooms with outdoor "Moonlight Showers". Set along the central pond, in a prime position for the nightly frog chorus, Deluxe Savannah Tents are bigger, spaced further apart and come with en-suite bathrooms that are discreetly separated from the main room by curving bamboo poles. The other (fabulous) option here are LALA MUKHA's Loft Tree Houses, which are accessed via a wooden bridge that's atmospherically lit at night. Inside, there's a master bedroom and a living area, a bathroom, and a loft room with 2 single beds (sleeping 4). Breakfast is served in the Jumbalani restaurant, a popular place for dinner that attracts non-guests from elsewhere in Khao Yai village. After exploring the national park, you can relax on your own wooden decking or splash about in the resort's gorgeous infinity pool; come nightfall, it's time to gather around the African-style campfire or simply stargaze.
To reserve your stay at Lala Mukha, click here
The brilliantly eclectic BAAN BOO LOO is spread across a quiet side street in Chiang Mai's Old City. The six separate rooms occupy a treasure trove of traditional Thai buildings, some painstakingly converted by Adisek, the hospitable owner, others moved here from the countryside and adapted and extended. They're all homely, colourful, quirky and chock full of curiosities – a rustic hotchpotch of furniture and fabrics done in a Lanna Thai style that's been pulled off with aplomb. And what child is not going to love a house that's been raised on stilts or built up into the branches like something out of The Swiss Family Robinson? All the buildings have great character, but the Grand Lanna Balcony Suite is the real showstopper. The beautiful master bedroom, with its carved teak king-size bed and lovely bathroom (which feels like its outside but is screened against the mozzies), is adjoined by a kids' room that can sleep 3 in a hefty Thai farmer-style bunk bed and a rollaway single. There's also a large veranda with a day-bed strewn with Thai cushions, and your own private dining area. Adi's sister lays on an authentic northern Thai feast for breakfast (plus cereals, juices, croissants and cheeses), which is served in the main building across the way. Baan Boo Loo is just a few minutes' walk from Wat Phra Singh, Chiang Mai's most beautiful temple, and from the network of roads that make up the best section of the city's colourful Sunday Walking Street market.
To reserve your stay at Baan Boo Loo, click here
ELEPHANT HILLS, KHAO SOK NATIONAL PARK
The reassuringly slick ELEPHANT HILLS run exciting fully inclusive packages at an upmarket camp near the entrance to Khao Sok National Park (ELEPHANT CAMP) and at a set of floating bungalows on Cheow Lan Lake (RAINFOREST CAMP). Accommodation is in comfy designer tents, with wooden floors and hammock-filled verandas; two-storey family units at Elephant Camp (over 4s only) sleep up to 6 in two double beds and additional rollaways, solar-powered tents at Rainforest Camp (over 7s only) sleep 3 in a double plus a single. Most families stay for a couple of nights, which is enough time to enjoy the spectacular surroundings of forest-covered karst mountains, take a dip in the pool and a swim in the lake, and to experience the brilliant range of small-group activities that make up the well-run schedule, including canoeing on the Khao Sok River, hiking in the national park, a boat tour of Cheow Lan and the chance to wash one of Elephant Hills' rehoused elephants, a truly unforgettable experience. The guides throughout are top notch: knowledgeable, thoughtful, courteous and inclusive, and well used to entertaining children with funny stories and jungle trivia. Buffet breakfasts and dinners are varied and tasty, and the evening programme at Elephant Camp includes nature documentaries, cooking demonstrations, and dance performances from local school children; if you stay overnight at the lake, you'll wake to the sound of gibbons hooting from the forested shoreline. A percentage of Elephant Hills' profits goes towards a children's project that helps schools in Khao Sok and Mae Hong Son and an elephant conservation project. Under 16s are half price.
OUR JUNGLE CAMP, KHAO SOK NATIONAL PARK
This excellent little eco-resort near Khao Sok National Park, part jungle hideaway, part community initiative, is a back-to-nature experience in the best way possible. Surrounded by greenery and set on the edge of the Klong Sok River, OUR JUNGLE CAMP's scattering of huts, bungalows and adobe houses are all beautifully built, but if you really want to make yourself popular parents, opt for the two-storey treehouses. Rustic yet stylish, these bamboo beauties are raised off the ground on stilts and feature a large double bed on the first floor, with a partially outdoor en-suite bathroom with shower, and twin beds on the second, which also has room for an additional double mattress; all beds are shielded with mosquito nets. As the name implies, this is the jungle, so don't be surprised if you wake up to see a family of monkeys staring at you through the screen doors of your balcony. It's also an eco-resort, so there's no air-con (rooms are cooled with fans and natural breezes), the majority of the ingredients on the restaurant's menu are picked fresh from their organic farm, and filtered rather than bottled water is available in the rooms. Best of all, money from your stay helps subsidise a nature camp for local schoolchildren, who spend a few nights here a couple of times a month to learn about sustainability and their environment. There are lots of activities and excursions on offer, either at Our Jungle Camp itself, where you can swim in the river or take a short walk on one of their looping nature trails, or further afield. Canoe or hike in the national park, try jungle camping or a night safari, go on day and overnight tours of Cheow Lan Lake, or take part in an Elephant Encounter where you'll get the chance to bathe a pair of old ellies and scrub them down with mud (though as you get in the river with them, this is probably a better activity for older children). Breakfast is not included in the price. Only cash accepted for payments on site.
To reserve your stay at Our Jungle Camp, click here
KOYAO BAY PAVILIONS, KO YAO NOI
Down an unsigned road in the island's southeast corner, KOYAO BAY PAVILIONS makes the perfect base from which to explore Ko Yao Noi. Like the island itself, it's a relaxed, rural, barefoot kind of place, with half a dozen family villas set off the track that leads down to reception and the beach. The villas (sleeping up to 6) are spread throughout the lush grounds and enclosed by frangipangi trees and bougainvillea, giving privacy and the feeling that you're the only people staying here. Most are set up with a master bedroom and an en-suite bedroom, with an open-sided kitchen diner and living room (complete with large sofas or big bean bags for lounging) connecting to a second en suite. They are all thoughtfully designed and very spacious, though the newest, Villa Ingfah, is particularly luxurious, raised above a rice paddy with its own pool built into the decking – elsewhere in southern Thailand, you'd be paying a lot more for living space like this. Days are spent chilling out by the swimming pool (other villas share good-sized pools between two), with the occasional foray down to the strand of beach, where you can gaze at the limestone karts of Phang Nga bay; swimming is tide dependent, as there are rocks not too far from shore. James, the manager, is always on hand to help with organising boat trips to the offshore islands and motorcycle-sidecar rentals and to make sure that everything is running smoothly at Sala, the resort's restaurant; it's one of the best on the island, with a range of exquisite Thai dishes and pasta options that will keep everyone happy. Breakfast (costs extra) is also served here and includes some interesting options such as rice soup with shrimps, although with a fridge in your kitchen and shops a few hundred metres' walk away, it's easy enough to have breakfast in your villa.
To reserve your stay at Koyao Bay Pavilions, click here
For more images of Koyao Bay Pavilions, see Booking.com